More pictures





Rievtech PLC AND TOUCH SCREEN TERMINAL (HMI) PACKAGE 1.
PLC: PR-12DC-DA-R
HMI: RTS4070CE
Power supply: RPS-60-S24
Programming cable: USB (PLC)
Programming and communication cable: RS232 (PLC-HMI)

Model:

028

Manufacturer:

Rievtech

Shipping fee:
3 EUR
Availability:

In stock
Description
PLC:
CPU: PR-12DC-DA-R
- Input: 4 pcs Digital / Analog (0-10V) + 4 pcs Digital
- Output: 4 relays (10A)
- LCD: Yes
- Programming: Function block or ladder diagram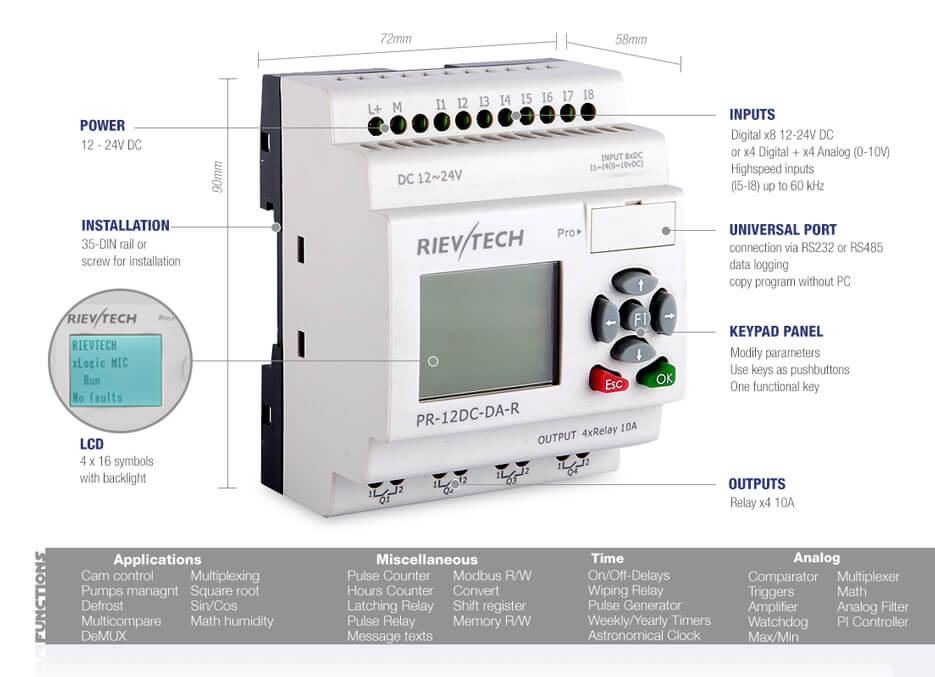 Timer: 512
Counter: 512
Function block: 512
Operating temperature: -20 ° C to + 55 ° C
Storage temperature: -40 ° C to + 70 ° C
Protection: IP20
RTC accuracy: MAX ± 2S / day
RTC Backup at 25 ° C: 20 days
Program and settings Backup: 10 years
Data shutdown delay: 10 years
Cycle time: typ. 0.6ms ➞ 8.0ms
Dimensions: 72 * 90 * 61 (Unit, mm)
Certification: CE, C-UL, ROSH, REACH
To change parameters on the LCD with the keyboard: yes
Mounting: 35 mm DIN rail or screw
Expandable: No
Password protection: Disable 4-digit password protection or program upload function
Communication interface: TTL interface, 1 Program / RS232 port
Communication protocol: Modbus RTU / ASCII
HMI: HMI data sheet>>>
Motherboard:
Processor: Cortex A8 600 MHz CPU, Flash: 128 Mb, RAM: 128 DDRAM
Display:
Size: 7"

Resolution: 1024x680

LCD: TFT 4-vezetékes ellenálló (felületi keménység 4H)

Colors: 24-bit
Ports:
Serial port: 

COM1/COM3: RS232; COM2: RS485

Programming: USB, Ethernet

Ethernet: 1 x 10 / 100 Mb

USB: 1 x USB 2.0
Data storage:
Flash 128 Mb

SD card

USB

Accessing data via FTP
- Free development environment
- Offline simulation
- Built-in VNC server
Rievtech's new RTS display series can be used cost-effectively for display tasks.
As an enhancement to the RTS series, a number of new features have been added, such as pdf display, QR code generation, FTP client function and VNC client.
The 24 million color color touch screen provides a user-friendly interface with a free programming environment. The program can be downloaded via microUSB or Ethernet port. The display can also be used as a VNC server, so the display content can not only be displayed with a client program, but depending on the setting, it can even be used for intervention. Client programs are available for different platforms, PCs or mobile devices, be it Android or iOS operating systems. Multiple clients can be connected to one display at a time. The displays provide not only the possibility to display and intervene, but also to collect data.
The display can also be used for Modbus TCP / IP master or Modbus TCP / IP slave communication via the Ethernet port.
The universal recipe management functions, which are already familiar with universal displays, are also available, with the help of which several different parameters can be operated easily. Recipes can even be stored on a USB memory, so they can even be edited from a computer. Recipes can also be displayed, edited directly from the display, downloaded to the PLC or read from there.
An essential part of modern controls is the management and saving of alarms, whether on an HMI, USB memory or SD card. Alarms can be triggered by various predefined events, which can be divided into levels according to their importance. Those at the lowest level only inform the operator when the event has occurred, while those at the highest level can even stop control. Alarms can be acknowledged, acknowledgments can be logged, as can other user events.

Sizes: 204 x 145 x 33,8 mm
Cutout size: 192 x 138 mm

Power supply:

RPS-60-S24:
230V AC / 24V DC 2,5A 60W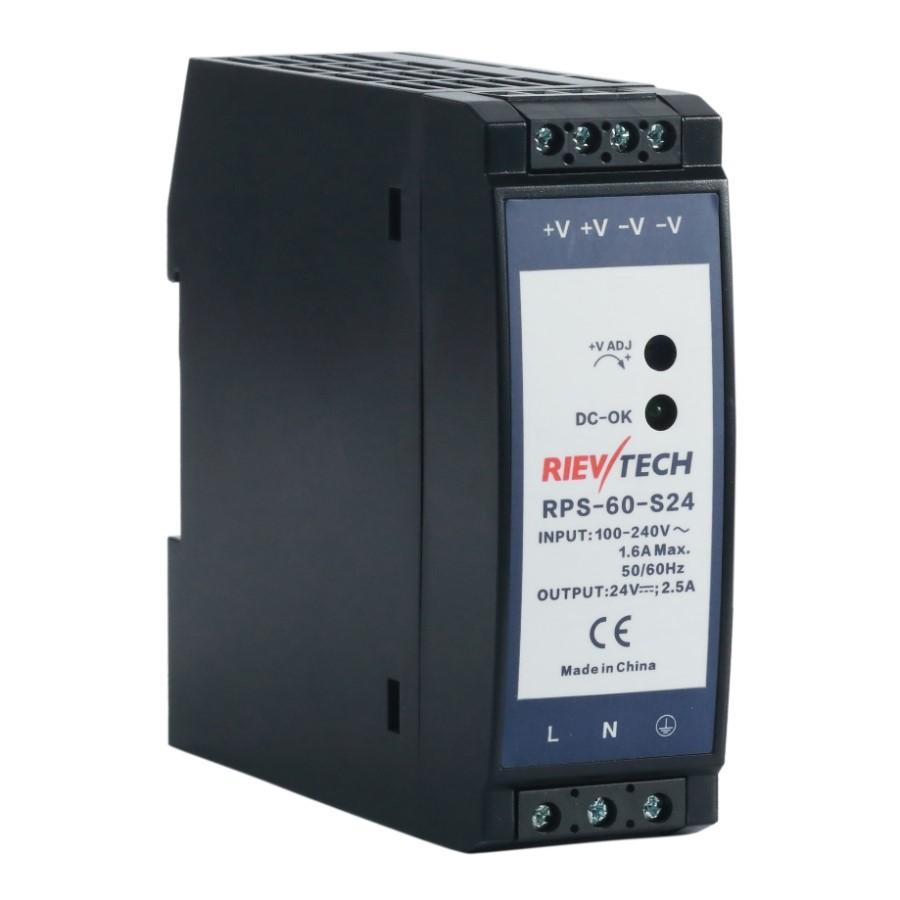 USB programming cable:
RS232 Programming and communication cable: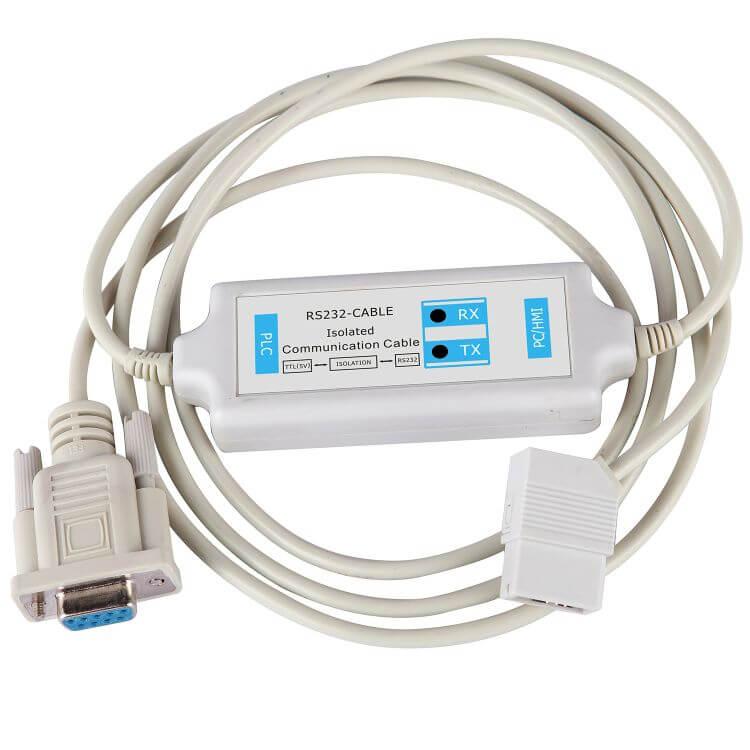 Hasonló termékek
PLC: PR-24DC-DAI-RTA
HMI: RTS007
Power supply: RPS-60-S24
Programming and communication cable: RS232
Industrial switch: 5 ports
In stock
Power supply: DC12-DC24V
Expandable: Yes (16 pcs PR-E)
LCD: Yes
Input: 12 pcs (of which 6 analog 0-10V)
Output: 6 relays
In stock